Buy a Lion Chinese/Japanese Calligraphy Wall Scroll
We have many options to create artwork with the Chinese characters / Asian symbols / Japanese Kanji for Lion on a wall scroll or portrait.
If you want to create a cool Lion wall scroll, this is the place. Below you will find a few Asian symbols that express the idea of Lion.
---
---

雌獅 is how to write "lioness" in Chinese.

Note: 雌獅 is not a very common title for a wall scroll in China. Perhaps because lions are not indigenous to China. Though oddly enough, rarity of lions made them very prized - and lion dances are a popular festival attraction.
If you do see name of this species of animal written on a wall scroll, it's more likely to be the masculine form of "lion".

河東獅吼 is actually a proverb and joke about the plight and fear of a hen-pecked husband.

In more ancient times it was used to describe a wife who would berate her husband or go into jealous rages. However, this phrase currently brings about ideas of a husband that cowers in fear and cringes when his wife screams (or roars) at him.

Please only purchase this as a good-natured joke. If your wife or husband does not have a good sense of humor, it's probably not a good idea to hang this on your wall just to irritate your mate.

獅子座 is the Chinese and Japanese way to write Leo (lion) of western astrology.
---
See Also: Chinese Zodiac
Leopard / Panther / Jaguar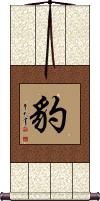 豹 is the Chinese and Japanese word for the big cat known as a leopard, panther or Jaguar.

This can refer to most cats of the Panthera genus as well as the Puma genus (but this is not used for most kinds of lions, except smaller ones like the mountain lion).

Because Jaguars are not native to Asia, the characters for "American continent" is usually added before this character to specifically designate a Jaguar.

This also kind of means Panther or Leopard in Korean Hanja but in modern Korean, they add a Hangul character to complete the word.
The following table may be helpful for those studying Chinese or Japanese...
Title
Characters
Romaji

(Romanized Japanese)

Various forms of Romanized Chinese
Lion
雄獅

---

雄狮
xióng shī

---

xiong2 shi1

---

xiong shi

---

xiongshi
hsiung shih

---

hsiungshih
Lion
獅子

---

狮子
shishi
shī zǐ / shi1 zi3 / shi zi / shizi
shih tzu / shihtzu
Lion Dance
舞獅

---

舞狮
wǔ shī / wu3 shi1 / wu shi / wushi
wu shih / wushih
Lion Dance
獅子舞
shi shi mai

---

shishimai
Lion King
獅子王

---

狮子王
shi shi ou / shishiou / shi shi o / shishio
shī zǐ wáng

---

shi1 zi3 wang2

---

shi zi wang

---

shiziwang
shih tzu wang

---

shihtzuwang
Lionel
利奧內爾

---

利奥内尔
lì ào nèi ěr

---

li4 ao4 nei4 er3

---

li ao nei er

---

liaoneier
li ao nei erh

---

liaoneierh
Lioness
雌獅

---

雌狮
cí shī / ci2 shi1 / ci shi / cishi
tz`u shih / tzushih / tzu shih
Lion Heart
獅心

---

狮心
shī xīn / shi1 xin1 / shi xin / shixin
shih hsin / shihhsin
Lion Heart
獅子心王

---

狮子心王
shi shi shin ou

---

shishishinou

---

shi shi shin o

---

shishishino
Roar of the Lioness
河東獅吼

---

河东狮吼
hé dōng shī hǒu

---

he2 dong1 shi1 hou3

---

he dong shi hou

---

hedongshihou
ho tung shih hou

---

hotungshihhou
Leo Zodiac Symbol
Sign
獅子座

---

狮子座
shishi-za
shī zǐ zuò

---

shi1 zi3 zuo4

---

shi zi zuo

---

shizizuo
shih tzu tso

---

shihtzutso
Leopard
Panther
Jaguar
豹
hyou / hyo
bào / bao4 / bao
pao
In some entries above you will see that characters have different versions above and below a line.
In these cases, the characters above the line are Traditional Chinese, while the ones below are Simplified Chinese.
All of our calligraphy wall scrolls are handmade.
When the calligrapher finishes creating your artwork, it is taken to my art mounting workshop in Beijing where a wall scroll is made by hand from a combination of silk, rice paper, and wood.
After we create your wall scroll, it takes at least two weeks for air mail delivery from Beijing to you.
Allow a few weeks for delivery. Rush service speeds it up by a week or two for $10!
When you select your calligraphy, you'll be taken to another page where you can choose various custom options.